We're all guilty of it – you buy a brand new bike and the first thing you do is rush out to your local bike store and start throwing a whole new set of components on it. Now stop me if I'm wrong, but lots of these 'upgrades' are pretty pointless and hold no real performance benefit – key example: getting cable covers to match the colour of your frame is a slight waste of money.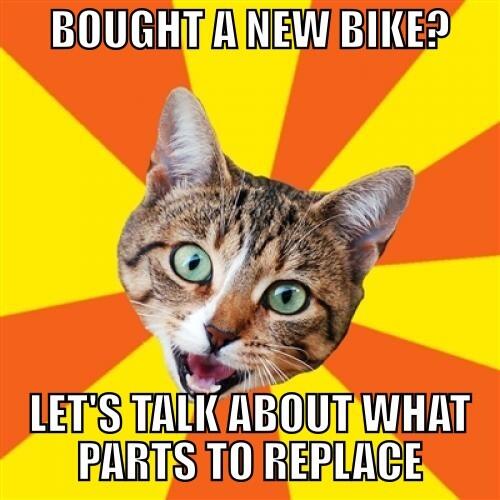 "Bang for Your Buck" Upgrades
The first thing you need to think about is what kind of riding you do most. Are you cross country crazy (XC), a downhill diva (DH) or an all-around all-mountain maniac (AM)? Different disciplines require different types of upgrades – dropping the third ring and sticking a bashring on may be great for those AM riders out there, but will probably require a lot more work to benefit any XC riders. Here are the upgrades that will benefit all riders:
Pedals
This is a big one and a decent set of pedals can have a phenomenal impact to the way you ride your bike. If you've been riding for a while then you probably have a personal preference between SPDs and flats, newbies probably won't have this preference. A good starting place is flats as this can give you the feel for your bike on trails with a much easier ditch-while-crashing ability. If you've been riding for a while then it may be worth making the upgrade to SPDs as this can give you greater control and stop you losing your footing on bumpier terrain.
Handlebars
Another fast change that can make a world of difference is going for wider bars to give you greater control and better positioning. If you find yourself struggling on tricky, technical downhill sections then putting a couple more inches on the end of your bars could be the perfect solution. The width of your bars should be relevant to your size – if you're only little then 800mm+ will probably be too wide for your riding, also if most of your trails are tight single track through trees then a wide bar may seriously hinder your riding. Ideally you want to be looking for a bar and stem combo that will centre your riding over the bike.
Stems
Similarly to the handlebars, the length of your stem can have a huge impact on your handling. XC riders want to be looking at getting longer stems to help centre them towards the front of the bike to make those hard climbs easier, whereas AM and DH will be looking at using shorter stems and even direct mount stems to give faster, more-responsive handling during blasts downhill.
Tyres
Probably the most obvious change you can make is the one thing that comes in contact with the ground. Tyres are the be-all and end-all of improving your bike's control and it may take a bit of experimentation to find what's really right for you. Again there's a huge variation of rubber out there, from lightweight and perfect for dusty, rocky terrain to the heavy-duty mud-loving grippy treads. There are tyres designed specifically for each type of trail, so do a bit of research before you buy and pick something ideal for your local trails.
Going Tubeless!
If you are already going to be investing in new tyres, then I'd definitely suggest going tubeless as well. Forget about the weight savings, unless you're a weight wenie or a pro racer you probably won't be able to tell. What you will be able to do is run much lower pressures giving you far more grip, improving your handling across the board. Also, there will be a lot less tubes to be patched and far fewer trail side stops to fix punctures. Go tubeless, it's the future!
More Expensive Mountain Bike Upgrades
All of the above upgrades will run you up a couple of quid, although most of them will come under the £100 mark and have a huge impact on your riding. If you have a bit more money to spend on upgrades then you'll want to be looking at things like suspension upgrades, new wheel sets and even a complete drive chain overhaul. Grinding Gears have covered more expensive upgrades here: Best MTB Upgrades.