Anybody who has ever been into mountain biking will tell you that upgrading your bike is something that just happens. It may start with a set of worn out brake pads or it could be torn grips, but sooner or later you'll find yourself looking at a bike that is completely different to how it started out. If you're smart then you'll have put off all the bigger upgrades by taking care of all the little, more essential mountain bike upgrades like the ones we suggested here >> easiest upgrades.
Small Upgrades not Hitting the Mark?
There comes a point in every bike's life where it just doesn't perform well enough to match the skill of the rider. When that happens there are three things you can do:
1. Buy a new bike with better specs
2. Upgrade your existing bike until it's awesome
3. Both of the above.
(Spoiler: almost everyone chooses number three)
Here are the best mountain bike upgrades to make a difference to how you conquer the mountain:
Suspension 
While the Hardtail vs Full Suspension mountain bike debate is one that incessantly rages on, one thing that every rider can agree on is that quality suspension will make a hell of a difference. If the bike you are upgrading is an older model or came with lower price tag thanks to lower specs, then upgrading your suspension is the best place to start.
However, this is also a very expensive item to upgrade with a starting price tag at over £100 with mid range being between £250-400 and top of the line coming in between £600-1,000. Often people find that it is cheaper to simply buy a brand new bike than make this purchase. Once you've made the plunge though there is no looking back – new, better suspension be it forks, rear or both will drastically improve the way your bike rides.
Make sure that you get the right suspension for your bike – putting 160mm forks on a 100mm hardtail is not an upgrade, it's a disaster waiting to happen! You'll change the whole ride dynamic and it's likely that you'll snap the frame.
Chain Reaction Cycles normally has great deals on shiny new forks!
Brakes
Those delightful little levers that you pull sometimes when you're going a touch too fast are massively important to your riding. Brakes control your speed and ultimately help to keep you on the bike instead of in a mess on the floor halfway down the trail.
If you have an older bike then it may have mechanical disc brakes or maybe even the old-school V-brakes! In the case of the latter, you may be better buying a new bike than trying to upgrade this part. Quality hydraulic disc brakes aren't the most expensive thing you can put on your bike – decent ones start between £40-50 with some World Cup standard ones tipping the £200 mark. For around £150 you could make you experience of the trails a lot more enjoyable by staying in complete control of your speed.
I've always found Wiggle to offer the best prices on disc brakes.
Wheelset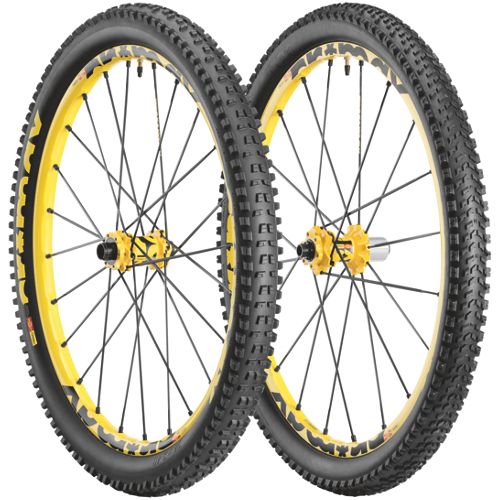 After a while your bikes wheels will wear out – after all they are the only thing between you and the ground, and they take a real battering! You can only true a wheel so many times before you need to think about a complete wheel rebuild.
When this happens, most people start thinking about changing their wheelset out. You can go lighter, heavier, thicker, thinner, burlier whatever, by this point you probably know exactly what you and your bike are capable of or do the most of and pick a wheelset to match! Generally this upgrade will cost you the better part of £200 for a set of wheels, with high end sets hitting the £600 marker with ease.
I've found that if you're buying new then it's hard to beat Chain Reaction Cycles for MTB wheelset upgrades.
Drivechain
Do I go 1×10, 1×11 or would I be better with 2×10 or should I just stick with 3×9? These are questions that almost every mountain biker asks themselves at one point or another. The real answer here is whatever you feel comfortable with. Some people like the security of being able to drop it into the granny ring, while others like to know they can fly down the roads in the 42t big ring. Sooner or later though you will want to make some changes to your drivechain, either making massive changes or simply upgrading the worn out parts. An entire drivechain upgrade can cost anywhere upwards of around £200, depending on the quality/ price of the parts you use.
These are the best mountain bike upgrades that will have a significant impact on the way in which your bike performs. Although they are much more expensive than the easy upgrades we previously discussed, you will see a huge difference for your money. Doing this all at once will massively drain your bank account and make you wish you simply bought a new bike, so go part by part and you'll feel so much better about the whole thing!
Merlin Cycles do outstanding deals on gears and drivechains.
Dropper Post
If you haven't already got a dropper post, where have you been? They are the best thing to have ever happened to mountain biking since… tubeless! It may seem like a huge expense for a seatpost, but a dropper post really can transform your riding. It isn't the time it takes to stop and raise or lower your saddle, it's more how you actually ride the trails – being able to sit back and pedal then pin the saddle and fly down swoopy, jumpy singletrack at a moments notice. There are plenty to choose from starting at a very small budget (like this £30 dropper from Decathlon) all the way up to what some people pay for an entire bike!
Wheelies has you covered for most of your dropper post needs – with upgrades from as little as £85!